Thunda Bhuj to Thakur Kuan -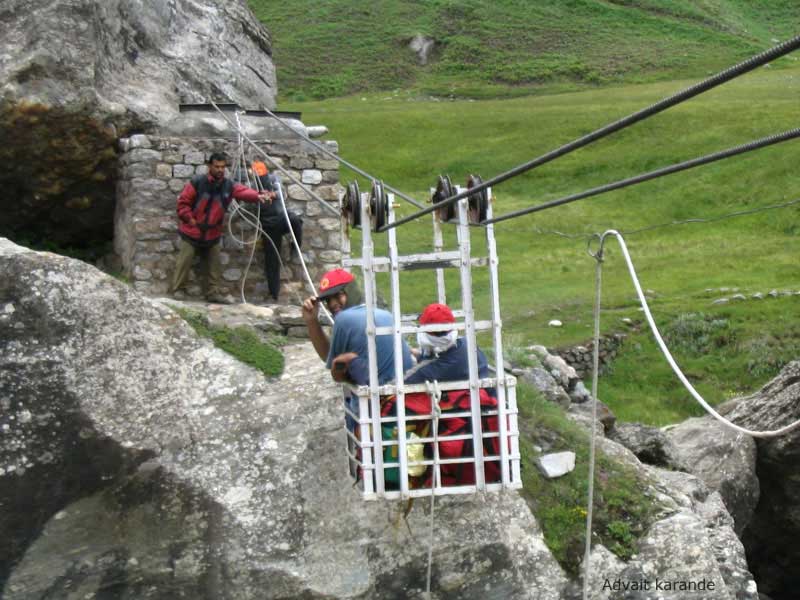 Next day the route was from Thunda Bhuj to Thakur Kuan. By this time I was charged up and I had decided to push myself to stay ahead with the first batch. One of the highlights of this route was the hand-operated cable car that we had to use to cross the river Parvati. The cable car needs to be pulled by the people on the other end as well as by the guys sitting in. The river Parvati deep down is at its furious best. It takes time to cross it, because only 2 persons can sit in that basket at a time, but it was great fun! This particular route was very very beautiful. From Thunda Bhuj trees start to disappear and there are only bushes around. As we walked ahead, lots and lots of colorful flowers surrounded us; yellow, purple, red and blue in all imaginable shades. This whole route was just a pleasure walk with all these beautiful flowers. This is something that you get to see in the movies, but experiencing it first hand is a miraculous experience. There were colorful flowers all around us; then there was this mild fragrance in the air, the weather itself was pleasantly cold & it had some mist as well. Moreover, there were early morning golden sunrays to give this all a very special feel. This was a "whole" experience by itself. And the whole is always larger than the sum of its parts. It's difficult to capture such moments of complete bliss in words or pictures. These are the moments that make the whole trouble worthwhile. And treks have such moments spread all over; it is just not about reaching a particular destination. Guess that's what is called as process satisfaction as compared with end goal satisfaction in management jargon!!! ;)



Thakur Kuan -

We reached Thakur Kuan at around 12 PM that day and I was among the first guys to reach there. This camp was situated among the beautiful flowers that we've been watching all along on this route. This camp was almost in a big flat ground where you could even play cricket. Only instead of grass and pitch, we had carpet of small colorful flowers.

By this time my body had accepted the inevitable & my lungs were co-operative as well. We all were comparatively less tired this day and we even found a ball to cheer us up. Naturally we had a catch practice session that afternoon to keep our bodies warm. Advait was catching the ball like Mohammed Kaif and rest of us were more or less like Anil Kumble. Yes, I know he's a pathetic fielder, but did I say rest of us were good?

There are no trees or bushes at Thakur Kuan; it just had colorful flowers. By the evening, the temperature at Thakur Kuan had started to drop considerably; it was unimaginable by now to even wash our hands & plates after dinner. Smart people among us had brought butter papers (not me, didn't I say 'smart people'?), so they didn't need to touch ice-cold water. Later Gowande uncle generously donated us few butter papers.

That night I was quite happy that I was able to do what I had decided to do the previous night. I wanted to do it all on my own and I was glad I could do that with my determination against all odds.



Thakur Kuan to Odi Thaach -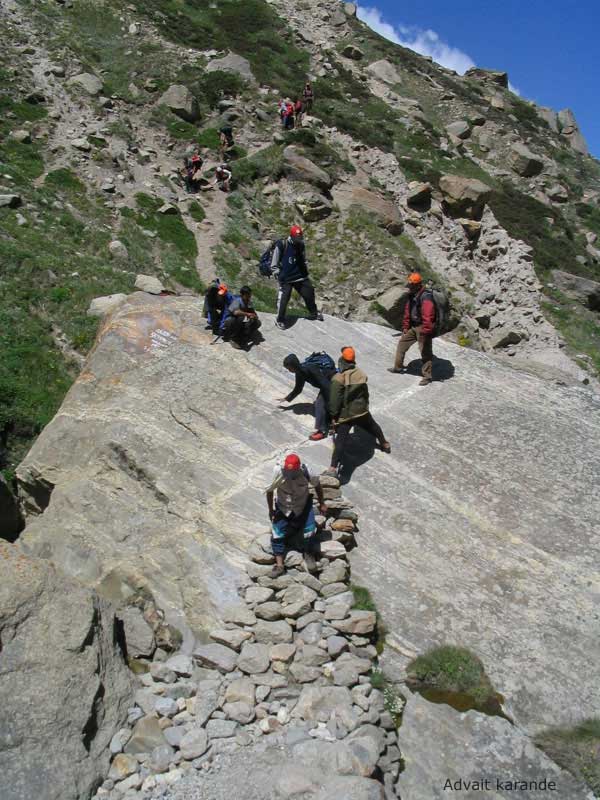 Next day's route was from Thakur Kuan to Odi Thaach, and this entire trail was without any trees or bushes. During first few minutes, we had those colorful flower carpets, but later it was some grass and mostly stones. Walking on them even with shoes was tough. One highlight of this day was "Pandu Pool", a bridge that is formed only with natural boulders and stones. The size of rock is massive and intimidating, though crossing this bridge itself wasn't tough.



Odi Thaach -

After some long and tiring walk we reached Odi Thaach around 1 PM and again I was one of the first ones to reach there; my confidence was growing. This was our last camp before summit; we were supposed to spend two nights here and then start our return journey. This camp was surrounded by some grass, stones & boulders; and there was glittering sand at some distance in front of our tents. The glitter was due to the high percentage of mica it had. The temperature here was pretty low and we couldn't sit outside tents without 2/3 layers of clothes even in the afternoon.

By this time I was feeling and behaving like a seasoned trekker and luckily didn't have any problems. However, others had some high altitude sickness by that time. Some of us had upset stomach due to high percentage of mica in the water. Sushrut, Patil aunty and Radhika were badly affected. That night redefined the term "cold" for us, especially for first timers like myself. We were shivering and stammering while talking during our dinner as well. Next morning we noticed a thin layer of ice on our tents. This was the summit day, and we were supposed to visit Mantalai Lake and return back by the evening to our Odi Thaach camp. Earlier we traveled around 11/12 kilometers each day and reached the campsite by 1-2 PM. But this was a difficult day; we had to cover almost 18 kilometers in a single day. Group leader Sushrut and Patil aunty decided to stay back at the camp, as they were unwell. Rest of us were eager to make it to the lake. The best part was; we didn't carry our big sacks with us since we had to return to our camp by the evening. We just took a small summit-sack to keep our lunch, camera & other stuff.



Odi Thaach to Mantalai Lake and Back -

Since Sushrut wasn't coming; we only had one leader, Amod with us. Of course, local guides Kamalji and Bhagchandji were there to help us out, and they led the group this time. This route from Odi Thaach to Mantalai Lake was the toughest one. For first few kilometers it was a plain walk but after that it was mostly ascents with stones all around and walking with blisters that everybody had by then wasn't easy. This route also had some smallish lakes in between with glittering sand banks and snow-covered mountains on the right side. As you approach Mantalai Lake, you're approaching the arid Spiti Valley, and if there's no snow, this part is full of pebbles and huge rocks, which makes the climb pretty tough. Without my sack, I was almost catching up with Kamalji while reaching there. Of course, you can't do that for long; these locals are very swift and unbeatable there. The last few kilometers on this route were testing; much tougher than anything else that we've been through before on this trek.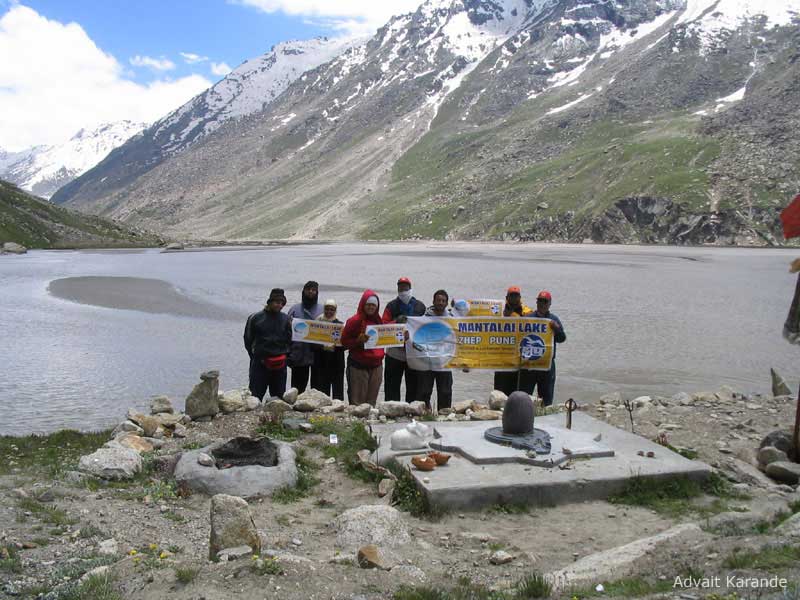 And finally, we reached Mantalai Lake! This lake is a high altitude (13,500 feet) glacial lake, which is the source of Parvati River. It's a very peaceful and serene place. It is covered with mountains on all three sides, and fourth side is the slope from where we reached there. There is an open Shiva temple here with traditional prayer flags. Locals say that even during snowfall this open temple remains unaffected. This lake has a very pacifying feel, and this place must be even more beautiful during snowfall. Except for dry fruits, no other foodstuff is allowed here. We waited for others to arrive there for long two hours; we were told that Mahajan uncle & aunty had some problems reaching there. Once they all arrived, we had our "mission accomplished" photo-session with all the banners and left for Odi Thaach immediately because we wanted to reach there before dark. Return journey was even tougher, especially because we all were very exhausted, hungry and the route was stony. We had our lunch on our return path, and started again for Odi Thaach. Since this time Amod was the only group leader we had with us, Mahajan uncle & aunty got confused and misdirected at few places and when we reached Odi Thaach in the evening, they had traveled almost 25 kilometers instead of 18 in that single day. They were extremely drained after this rough day; and it was impossible for them to cover another 23 kilometers that we had planned next day. According to original plan, we were supposed to cover distance from Odi Thaach to Thunda Bhuj (skipping Thakur Kuan) on the next day. But that didn't seem feasible in the given conditions. So after some brainstorming, Amod decided to go to Parvati project instead of Thunda Bhuj. This project is somewhere in between Thakur Kuan and Thunda Bhuj; just near the cable car that we had used.